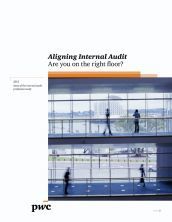 The majority of executives participating in PwC's 2012 State of the Internal Audit Profession survey say their businesses face more risks than ever before and the consequences become apparent much more quickly.
PwC's 8th annual examination of the internal audit profession, focuses on this rising importance of risk management and internal audit's contribution by taking a closer look at how stakeholders and board members view critical risks and the role internal audit could be playing.
Watch our webcast to learn more about the findings where we provided a perspective on the following questions:What are stakeholders' expectations of the Internal Audit function?What challenges were identified to Internal Audit playing a bigger and more strategic role in monitoring critical risks?How are the most progressive companies proactively handling risks by leveraging Internal Audit's assistance to monitor them?What are the four things that companies that manage risk well doing to distinguish themselves from their peers?
See on www.pwc.com