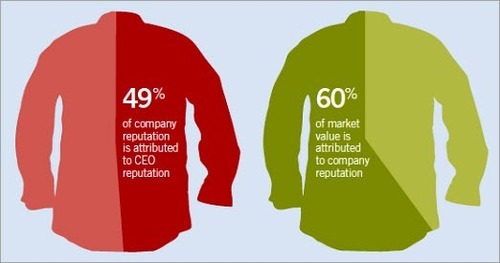 What role does the reputation of a company's chief executive play in the reputation of his or her company and, thus, the likely business success or failure of that company? It's a crucial question that draws some fascinating answers in the results of new research conducted by PR firm Weber Shandwick.
The second installment of Weber Shandwick's global research, The Company behind the Brand: In Reputation We Trust – CEO Spotlight, explores how executive leadership and communications from the top are critical to helping reverse the tides of waning respect for companies – a key finding highlighted in The Company behind the Brand: In Reputation We Trust, Weber Shandwick's initial research published in January.
In its latest research, Weber Shandwick says that 66 percent of consumers say that their perceptions of CEOs affect their opinions of company reputations. Executives, like consumers, also do not overlook the importance of a leader's reputation, the PR firm says – they attribute almost half (49 percent) of a company's overall reputation to the CEO's reputation.
Executive leadership is critical to "burnishing the overall reputation of organizations today," the firm says, "particularly when it's estimated that 60 percent of a company's market value is attributed to its reputation."
See on www.holmesreport.com